Visual Perception: A Clinical Orientation, Fourth Edition
By
Steven Schwartz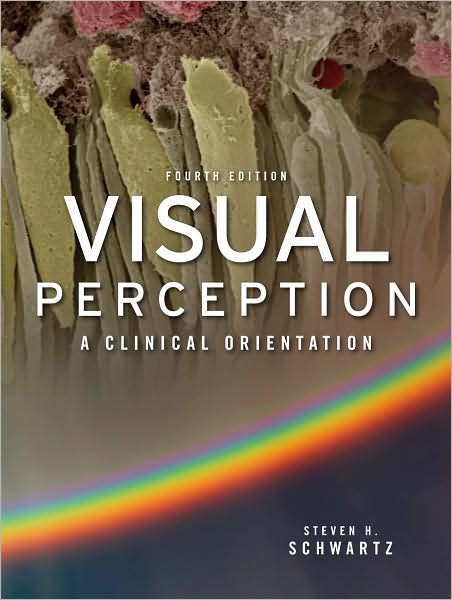 Product Description:
The text that bridges the gap between basic visual science and clinical application – now in full color
Includes 3 complete practice exams!
This comprehensive text on visual science is unique in that it highlights the fundamental aspects of monocular visual perception that are necessary to successful clinical practice. Recognized for its engaging, enjoyable style and ability to explain difficult topics in simple, easy-to-understand terms, Visual Perception goes well beyond the basics, including information from anatomy to perception.
Covering a broad range of clinically-relevant topics, including color vision and its defects, spatial vision, temporal aspects of vision, psychophysics, physiology, and development and aging, the Fourth Edition of Visual Perception has been updated to include full-color figures and many new clinical images. Each chapter has been revised to keep up with the latest advances in the basic sciences, and throughout the text the linkage between basic psychophysics and clinical practice has been strengthened.
Features
New full-color presentation with 250 illustrations, including color vision tests and fundus photographs
3 practice exams (more than 200 multiple-choice questions)
Self-assessment questions at the end of each chapter
Current references from leaders in each subfield
Enjoyable to Read AND Comprehensive!
Experimental Approaches, Introductory Concepts, The Duplex Retina, Photometry, Color Vision, Anomalies of Color Vision, Spatial Vision, Temporal Aspects of Vision, Motion Perception, Depth Perception, Psychophysical Methodology, Functional Retinal Physiology, Parallel Processing, Striate Cortex, Information Streams and Extrastriate Processing, Gross Electrical Potentials, Development and Maturation of Vision, Practice Exams, Answers to Self-Assessment Questions, Answers to
Practice Exams, References